Here's a story of my journey to pricing for profit…

So, I bought a house this year. Yay! Profit First! 🥳


During the inspection, prior to the sale, this, that, and a few other things popped up on the inspection report.

✅ this
✅ that
✅ a few other things

I sought advice and asked for repair estimates.

I put a little budget together. And that left me feeling prepared.


Budgeting for Repairs
The first item on my list was budgeted at $3,500.

When it came time for the actual repairs, I was quoted over $10,000 by highly recommended service providers.

Consequently, I felt as queasy as that time I went on an all-you-can-eat crab leg dinner cruise. 🦀🛳

🤢 (Please pass the ginger and Dramamine as I listen to you crack, pull, butter, and slurp while we sail the open seas.) 🤢
Not great if you have motion sickness and detest the smell of seafood.

However, I knew the repair was an important one. It would protect me from bigger expenses in the future. As a result, I said yes.
When we got in the middle of the repairs, because I bought an older house, it turned out to be a few thousand more bucks to do the job right. Because, like you see on every HGTV home reno project, they "found some things."

The thing is, when I put together my house repair budget, I had no idea how to value the repairs.
And that's even with getting estimates based on the inspection report and photos.
I didn't understand what the price would be until I hired someone to do the job.
My Old Budgeting Method – Not Pricing for Profit
And that budgeting method was kind of how I figured up my prices 2 – 3 years ago. I shopped around. After that I compared my prices to other similar providers.
I looked at contracts to see what was included and what wasn't. And based on those terms and those numbers, I came up with MY numbers.

And guess what? My prices were crazy low.

That is to say, stupid low.
Like – just buy that $100 teak expandable table on FB Marketplace the minute it's listed, and ask questions later – kind of low. (I'm still kicking myself for taking the night to think about that table!)
Delegating to Understand Value
It wasn't until I started outsourcing and delegating, that I finally started seeing the real value of what I offered. For instance, when I had to pay someone else to do the work, I realized just how much I was undercharging.
Moreover, the real key was not just paying any old contractor to do the work. It was paying GREAT contractors to the do the kind of work that I expected of myself…OR BETTER!

As a result, delegating and outsourcing put me on the track to pricing for profit.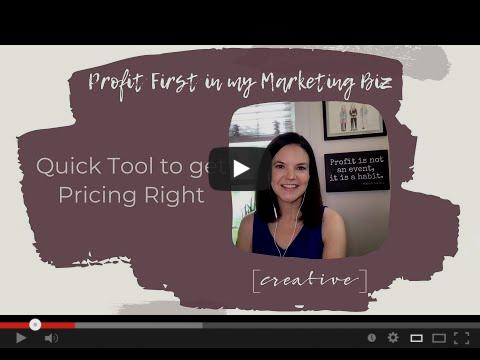 In the video above, I unpack that journey, plus I show you a free tool to help you calculate the price you should charge after you markup for your profit margin.
Professional Delegation Help
Now, as you're aware. I'm not as great at delegating as I'd like to be. As a result, I'm getting professional help from the Run Like Clockwork team at their Delegate to Accelerate Bootcamp.
It's only 47 bucks, which feels like a steal if they can help me get this delegating thing right.
So, if you want to get better at delegating, come bootcamp with me on September 19th. Here's my affiliate link.
And here's to more delegating and better pricing, so we can grow good business without working harder!
p.s. I'll be reporting my delegating learnings on YouTube, so if you just want to follow along, subscribe to my channel.